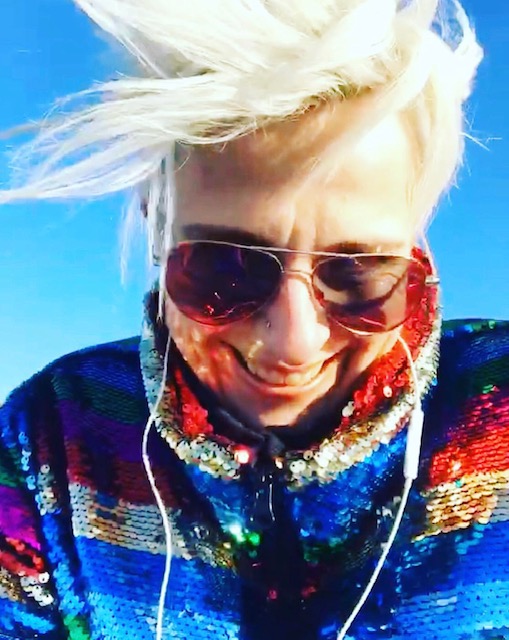 Niki is a contemporary Welsh visual artist working from a studio on the coast of North Wales. She finds herself concerned with and exploring the usual questions we humans have – life, death, love, loss, joy, pain, the world around her and her place within it. What is it to be her in the 21st century? Body issues, life issues, mind issues, world issues. As a Generation X'er Niki finds herself referencing in her practice the pop culture and music of the 80's and 90's where she grew up whilst absorbing in the rebellious nature of Punk and the brashness of Americana. Her surfaces are scattered with a multi-media riot of shoulder pads, rhinestones, neon tubing, typography and fluorescent colours exploding in a cacophony of form. Taking in the macho ideals of Abstract Expressionism and the colourful renderings of the Pop Art movement, through to the feminine, domestic forms of stitch and collage; work that is both on a giant scale that towers over the viewer standing in front of it but is also not afraid to be something small enough to wear on a finger.
Niki has just completed a Masters in Fine Art (2019-2021) where she has been occupied with thoughts of motherhood and all that it entails. Her practice has focused on the fracturing and fragmenting of self that occurs with the advent of children with its endless mental, physical and emotional load and her attempt to wrestle time and space to be an artist whilst looking at the stereotypes of both. The life of a menopausal 47 year old woman with 3 children and a surprise grandchild all squashed into the family home has fed the feeling of chaos and juggling that Niki depicts in her work. A visual voice that echos the madness of juggling an over full life where she says she feels like a cake that doesn't have quite enough slices to go around all the people at the party. The drudge of domesticity and the fight to be something else. Throw in a world pandemic and it has made all the more fuel for her creative fire. Her practice stretches across painting, photography, installation, printmaking, sculpture, performance, textiles, video and sound. 
 –
Niki is currently collaborating on a 78 image tarot deck with the writer Alice Grist that is being released world wide by Welbeck Publishing from November 2022. She has exhibited in places as far flung to each other as Llandudno, Liverpool, London & Kyoto. She has done a residency at Galeri Caernarfon during the midst of the pandemic and has also collaborated with many artists over the years including Stuart Semple and his art materials project – The Blackest Black, lighting designer Mamws, the music producer Tom Demac on an all encompassing soundscape, the graphic novel artist Alexandria Welch on a collage and the actress Holly Roberts on a video installation.
CV
1992-3 – Bangor Parc Menai – Art Foundation Course
1993-4 – Cardiff Met – BA (Hons) Fine Art
1994-6 – Wirral Met – BA (Hons) Fine Art (Liverpool John Moores)
1995 – Liverpool Docks – Group Show
1996 – Williamson Art Gallery Liverpool – Group Show
1996 – Royal Cambrian Academy – Emerging Welsh Artists
1998 – Wrexham Art Gallery – New Artists
1998-… – Founded View Creative Design Agency
2000-… – a hiatus of life, children and random work
2011-15 – Founded Louli homewear and apparel
2015-17 – Two Birds Gallery – Rolling Exhibitions
2016 – Royal Cambrain Academy – Digital exhibition
2016-19 – Peculiar Gallery – curating and hanging quarterly exhibitions
2016 – Peculiar Gallery – One Wall Sees All – Solo Show
2017 – Llangollen Tourist Information Gallery – Group Show
2017 – Saatchi Gallery – #Selfie – Group Show
2017-… – Opened The Studio – Working studio space, workshops and exhibition space. Ongoing
2017 – Oriel Mostyn – #Glitch Festival – Group Show
2018 – Royal Cambrian Academy – Winter Open – Group Show
2018 – Royal Cambrian Academy – New Digital Art – Group Show
2018 – Llawn 06 – John's Street House – Takeover – Group Show
2018 – Llawn 06 – Pop Up – Take Away Art – Collaboration with Pea Restall
2012 – Stuart Semple's Culture Hustle The Blackest Black 2.0 project (packaging)
2018 – Oriel Brondanaw – Open Exhibition
2018 – Peculiar Gallery – (exhibited & curated) – Group Pop Up Show
2018 – Beaute Box – (curated & exhibited) – Pop Up & Takeover Solo Show
2019 – Oriel Mostyn – Insight – Solo Show
2019 – Helfa Gelf – The Studio – This is Me (exhibited & curated) – Solo Show
2019 – Helfa Gelf – Open Studios
2019 – Marmalade Cafe – Installation & curation of work
2019-21 – Parc Menai Bangor – MA Fine Art (Bangor University)
2020 – Witch Magazine Article – What's Mine is Mine
2020-21- Pandemic pop up studio and exhibition space made in my kitchen and around the house
2020 – In My Garden – Who's She? The Cat's Mother – Lockdown Exhibition
2020 – In My Kitchen – Fantasy Tea Party – Lockdown Performance
2020 – #artistsupportpledge – artists supporting artists during the pandemic via instagram
2020 – Peculiar Gallery – The Vault (exhibited & curated) – Art in Lockdown
2020 – View Creative – Installation, design of spaces & curation of paintings
2021 – Plas Bodfa – Unus Multorum – Group Show
2021-… – Plas Bodfa – Artists Multiples – #Femalekind -Group Project
2021 – The House of Smalls – The Time of Her Life – Group Show
2021 – The House of Smalls – This Volatile State – Group Show
2021 – Galeri – Lockdown Residency
2021 – Galeri – Working in Lockdown (exhibited & curated) – Group Show
2021 – Elysium Gallery – Without Boarders – Group Show
2021 – Peculiar Gallery The Vault – Bright Lives (exhibited & curated) – Group Show
2021 – Art Spot Korin – Kyoto Japan – Without Boarders – Group Show
2021 – Parc Menai – Bangor – (group curated) The Last Women Standing – Group Show
2022 – Pontio – Foundation 40+1 – Group Exhibition
2022 – Mind Centre – Nagoya Japan – Without Boarders – Group Show
2022 – Rebel Heart Tarot – World Wide Release with Welbeck Publishing and Writer Alice Grist
Commissions & Collaborations
2016 -… – Peculiar Gallery – ongoing curating and hanging of exhibitions
2016 -… – Ongoing workshops with with Pea Restall
2017 – Oriel Mostyn – #Glitch Festival – workshops and group performance
2018 – Collaboration with lighting designer Mamws
2018 – Llawn 06 – workshops and collaboration on exhibition – Take Away Art – with Pea Restall
2018 – Collaboaration with Stuart Semple on his 'Blackest Black' art materials project.
2019 – Installation at Verneys House
2019 – Furniture & light fitting design for a private collection at Verneys House
2020 – Mentoring artists through the Pandemic
2020-… – Continued mentoring of artists and their practice
2021 – Collaboration with the Graphic Novel Artist Alexandria Welch
2021 – Galeri – Lockdown Residency
2021 – Galeri – Curating and installing a group show – Art in Lockdown
2021 – Collaboration on a soundscape with DJ & Music Producer Tom Demac
2021 – Collaboration on a video with Actor Holly Roberts
2021 – Parc Menai – Group curating and installing the group show 'The Last Women Standing'
2021-22 – Pontio Gallery – Site Specific Installation in the Atrium – 'Almost a Murder'
2021-22 – Collaboration on a 78 card tarot deck – Rebel Heart Tarot – with the Writer Alice Grist
2022 – World wide publication of the Rebel Heart Tarot deck via Welbeck Publishing
Pagination