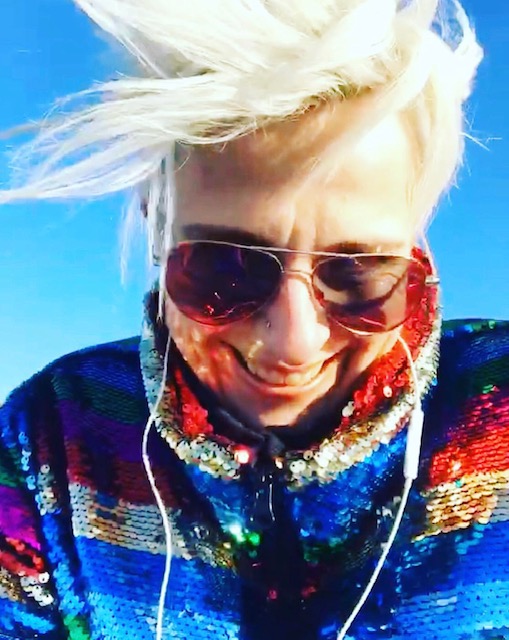 I'm concerned with the usual questions we humans have – life, death, love, loss, joy, pain, the world around me and my place within it. What it is to be me and to be a woman in the 21st century. Body issues, life issues, mind issues, world issues. I have an endless curiosity to life and I always have an opinion on whatever it is I'm seeing/reading/listening to. All that floating information bubbles up and becomes something that I have to make into art.
Coupled with living on the open coast of North Wales, where the light is endlessly changing and the constant movement of air and water helps to fuel my restless disposition. I have found that I need to be in a physical and psychological state of perpetual flow and I find the endless animation of the natural world, the large sweeping and ever changing vistas of sky and sea, can be seen within my work. I'm always looking for that optimism and light that nature herself hands me unquestioningly.
I hate to be pigeon holed, it brings out the rebel in me. I have a relentlessly curious temperament and I love to work across many different mediums. I'm not afraid to try something new if it tickles me. Technology isn't something I shy away from if I can find a place for it within my work. I'm always looking to push myself in new areas. Video, photography, digital manipulation of imagery, sculpture, installations and of course good old painting (my first love, my first crush) it still brings me so much joy and peace, a meditation in movement whilst pushing around the most joyous of things, colour.
I'd say my biggest passion is colour, it's where all my work begins, the uplifting, positivity, thrill and basic need I have to surround myself and my work with it, in whatever format it takes. As I have a tenaciously depressed mind it is my prozac, my therapy, my way of digging myself out of the slimy black hole I often find myself lost in. A proper love affair that has lasted my entire life. I think if you cut me through the middle I would probably be a glittery rainbow. That might sound contrived and all too fluffy for the seriousness of art but the joy of something so simple is what underpins the weight of all the other stuff I pile on top of it. It helps the work and me to not crack under the weight of this human condition of constantly questioning the world and our place within it.
Pagination